Who are this year's greatest overachievers? As one way of answering that, I compared everyone's points (as of March 15) to their three-year average points per game multiplied by the number of games they have played. 
I found that William Karlsson, Nathan MacKinnon, and Mikko Rantanen were on top, and ahead of the pack.
+42.9 W. Karlsson
+42.0 MacKinnon
+39.2 Rantanen
+29.4 Perron
+29.0 Bailey
+28.6 Marchand
+28.0 Kucherov
+27.5 Couturier
+27.1 Haula
+27.0 Hall
+26.6 Marchessault
+25.5 R. Smith
+24.9 Teravainen
+24.5 Giroux
+24.0 Fiala
Karlsson is such an interesting case. At the time, he had 
39 goals in 164 shots (23.8%), after a previous NHL total of 
18 goals in 233 shots (7.7%) and AHL total of 
10 goals in 127 shots (7.9%). I'm not sure I've ever seen this dramatic a transformation, except for the cases where a player was suddenly moved from a depth line to Mario Lemieux's wing.
I also found four other players for Vegas on that list, the only team to appear more than twice. I expanded the search, and counted up all the 
players who had scored at least 10 more points than expected, and Vegas has eight. Boston was next with six, then Minnesota, Philadelphia, and Washington had five, and Anaheim, Nashville, and Tampa Bay had four.
Karlsson got a lot of extra ice time, which would explain his extra scoring. I repeated my calculations, but looked at ice time instead of points. Karlsson ranked sixth overall, and third among forwards, and was one of four Golden Knights on the list.
+401.5 Schmidt
+400.6 Dumba
+383.2 Anderson
+373.1 Orlov
+365.7 Sissons
+339.7 W. Karlsson
+330.7 N. Schmaltz
+291.8 Haula
+284.4 Wagner
+283.0 Engelland
+264.5 Copp
+262.4 Pateryn
+252.2 Rakell
+246.8 Namestnikov
There are some really interesting names on that list, like Josh Anderson of Columbus. Despite an increase from 12:01 per game to 18:14, he has the exact same total of 29 points. Colton Sissons went from 11:07 to 16:05, and he went up to just 27 points. That's a jump from 10 points in 2016-17, but it's still not much. Extra ice time doesn't necessarily mean more points, especially if it's spent killing penalties or playing in the defensive zone.
There's no question that Vegas is the most surprising team this season, but I asked my Twitter followers who was next, and it sounds like it's Colorado, despite that top line being the only one to really defy expectations.
I also took a look at the rookies, and it stands out that 
Yanni Gourde has 61 points in 80 games, which is 0.76 points per game. In the AHL, he had was 0.66. We were only expecting about 25 points per game, especially since he's only 5-foot-9. He's like another Jonathan Marchessault. 
Looking at all other players who came up from the AHL last season, other 
big out-performers are Heinen, Debrusk, Kempe, Connor, Gibbons, and Bjorkstrand, all up by around 11-17 points apiece.
On defense, 
Charlie McAvoy is the one out-performing expectations. He had 
32 points in 60 games before getting hurt, but we were only expecting about 20, based on his Hockey-East scoring. Clayton 
Keller, on the other hand, is right on with expectations, as is just about everybody else who came from that conference.
The other interesting situation is how McAvoy was able to effectively play in a top-four role right away. 
With only a few exceptions, the numbers confirm that most new NHL defensemen are sheltered, in the offensive zone and against bottom-six competition. If they are used in more ambitious roles, like Santini, they usually get crushed. McAvoy is really one of those really rare cases.
What does this mean for the Calder race? Well, let's remove the defensemen who aren't rookies from the chart above, and add in the forwards. 
Remember, blue circles indicate good shot-based metrics, and big circles a lot of ice time. 
Tough minutes is towards the top left, more sheltered minutes to the bottom right. You can play with these charts yourself using the tool on my website.
You can see Gourde didn't get a free pass this year, and McAvoy looked like a great choice until he got hurt. However, Barzal will probably win. He's the one with the dark blue circle right in the middle of the chart. Can't complain too much about that choice, because only Dubois had comparably strong shot-based metrics, and he was used mostly in the offensive zone.
Getting back to the blue line, I made a player usage chart with each team's No. 1 defensemen. The archetype is some combination of 
Giordano, Letang, Josi, Doughty, Provorov, Suter, Ekman-Larsson, and Pietrangelo. 
It's not always clear who is each team's No. 1, but hopefully I'm close enough. I included Mc
Donagh for NYR, even though he's in TB now.
What does this mean for the Norris race? Well, it does appear that Morgan Rielly deserves some consideration. I mean, I wouldn't have him at the top of the list, but I'd certainly take a closer look. 
Since scoring is so important to voters, here's a player usage chart of every defensemen with 50 points (or within striking distance). Remember that b
lue circles indicate good shot-based metrics, big circles indicate lots of ice time, and tough minutes are top-left. With the injury to Suter, I really think Doughty is the clear front-runner, but we'll see.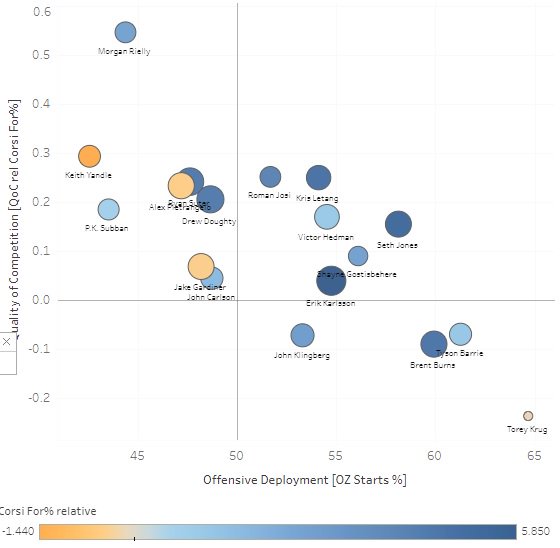 Whether Doughty wins the Norris or not, I was curious if he was viewed as the team's most valuable player. I certainly think he is. However, most fans gave the edge to Kopitar instead.
It's not that hard to see Kopitar's appeal. Among the NHL's top scorers, Giroux and Kopitar stand out by playing tough minutes against top competition (vertical axis), and in the defensive zone (horizontal axis), and still have good shot-based metrics (blue). That gives each of them a pretty solid case for the Hart trophy, since there's an unwritten rule that forbids you from giving it to a player whose team missed the playoffs.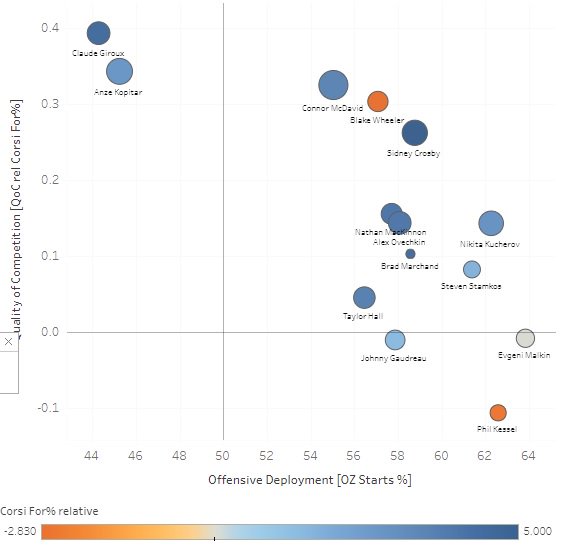 I asked everyone what they thought about that unwritten rule, by the way. Surprisingly, no one saw it as something that should rule a player out completely. That will probably comes as big news to Pavel Bure and Jarome Iginla, whose failure to win the Hart Trophy in separate seasons 15 years ago can't otherwise be explained.
It sounds like missing the playoffs is a factor, but only a minor one. If that's true, then McDavid has a real shot to win it this year.
In addition to those who exceeded expectations, I also looked for players who missed expectations, and there's a clear winner in that category: Jason Spezza of the Dallas Stars. He scored just 26 points in 76 games. His previous career low was 50, if you set aside the five games he played in 2012-13, and his 21-point, 33-game rookie season. Is this it for him?
-19.6 Jokinen
-18.2 N. Foligno
-17.2 Mi. Stone
-17.2 Dubinsky
-17.0 Sharp
-16.9 Lehtera
-16.8 Sheary
-16.7 Saad
-16.2 Letang
-16.1 Little
-15.7 Callahan
-15.6 Backstrom
-15.4 J. Johnson
-15.1 Pacioretty
-14.9 Nash
In something of a vicious circle, most of the players who dropped in scoring also dropped in ice time. One of the exceptions is Brandon Dubinsky, who dropped from 17:54 to 15:25 in ice time, but plummeted in points from 41 to 15. I usually don't see drops like that unless a player is injured, or he finds out I picked him in my fantasy pool.
Biggest drop in TOI, in minutes (based on 3-yr avg TOI/GP)
-357.1 Mi. Stone
-326.2 Kunitz
-318.0 Ennis
-317.4 Beauchemin
-316.2 Jokinen
-280.8 Lehtera
-266.2 Cammalleri
-265.7 Kulikov
-256.3 Russell
-252.9 J. Johnson
-249.0 Spezza
-246.1 N. Foligno
-236.9 H. Sedin
-236.9 Sharp
In case you're wondering, there is one team who had more players drop by at least 10 points than Columbus, and that's Chicago, with five. Buffalo, Calgary, Pittsburgh, and Vancouver were at three apiece.
Chicago is also interesting is that they're one of the exceptions to the generally 
close relationship between how often a team faces off in the offensive zone, and their share of shot attempts. I mean, if you start shifts in the offensive zone, then you get more shot attempts. And, if you get more shot attempts, more of them are frozen in the offensive zone, getting you more faceoffs there, right?

Maybe one of the more interesting exceptions are the Rangers, who usually start in the offensive zone, but have the worst shot attempt percentage in the league. On the other pole there are teams like Dallas, who have great shot-based metrics, but always seem to start shifts in the defensive zone for some reason. Perhaps this is how we can identify teams that might be "gaming Corsi"?
Odds and Ends
Well, we're basically already into the odds and ends section, so let's start with @CodexRex, who completed a
great study of officiating
, and found that r
oughly 1 in eve
ry 6 infractions are penalized (among other interesting findings). Does that sound right to you? I guess it does.
No player has been on the ice for more goals against than Wayne Gretzky, 2,286. 
(Data goes back to 1955-56)
With 6 points in his last 5 games, Marleau has reached the 40-point mark for the 18th time in 20 seasons -- exceptions were his rookie season and the 48-game 2012-13.
Justin Faulk scored 12 of his 34 career power-play goals in the first 65 days of the 2015-16 season.
I don't want to jinx it, but another remarkable situation is that no coach has been fired in 2017-18. 
In two days, Jon Cooper will have been coach of TB for five years, which is the second-longest single-team tenure among active coaches.
Gabriel Landeskog is +30 at home, but -11 on the road, largest gap in the league.
Malkin and Staal are now 2 of 7 active players 3 40-goal seasons. Ovechking 
(9), Stamkos (4), Gaborik, Hossa, Nash are the others.
With the addition of Wheeler and Voracek, there are now 14 active players who have recorded 60 assists in a season. 
With Giroux and McDavid, there are now six who have done so more than once.
Tavares has been on the ice for 108 opposing goals. 
No other forward over 90, and the most by a forward since Martin St. Louis in 2007-08, 113. Here's the list, since 2000. As you can see from some of the names on this list, this isn't exactly insulting to Tavares.
113 St. Louis 2007-08
108 TAVARES 2017-18
105 Bergeron 2006-07
105 Horcoff 2006-07
105 Lecavalier 2007-08
104 Richards 2007-08
101 Bure 2000-01
100 Amonte 2000-01
100 Messier 2000-01
And, that you should c
ontact Philip Giannini at philip@statstrack.ca or call (647) 505 3430 for more details about StatsTrack's new studying at your own pace course.