Inspired by the
Fourth Down Bot
in football, @ThePullBot calculates the ideal time for the trailing team to pull the goalie in each game, and tweets it out. It also tweets out when the team actually pulled the goalie, and remarks at how the odds of winning the game go up and down as goals are scored on the empty-net, or with the extra attacker.
We also collaborated on one Twitter Bot per team that tweets about how the odds of a team winning change with every goal. You can follow just the Bot for your favourite team, or follow all 31. Here's the
@LeafsGoalBot
, for example.
While it's not a Twitter Bot, one of my favourite gadgets is the
player usage chart tool
, which the venerable Robb Tufts up to date, which can be accessed in the menu on the left-side of my Hockey Abstract website. He also has some ideas brewing for some extra bells and whistles, so stay tuned.
Recently, I also had the pleasure of meeting with R.J. Weise (@rjweise), who showed me some of his awesome work. Here's just one taste, which is 
NHL shot data in 3D form
. Check this out, as well as all of his other awesome work.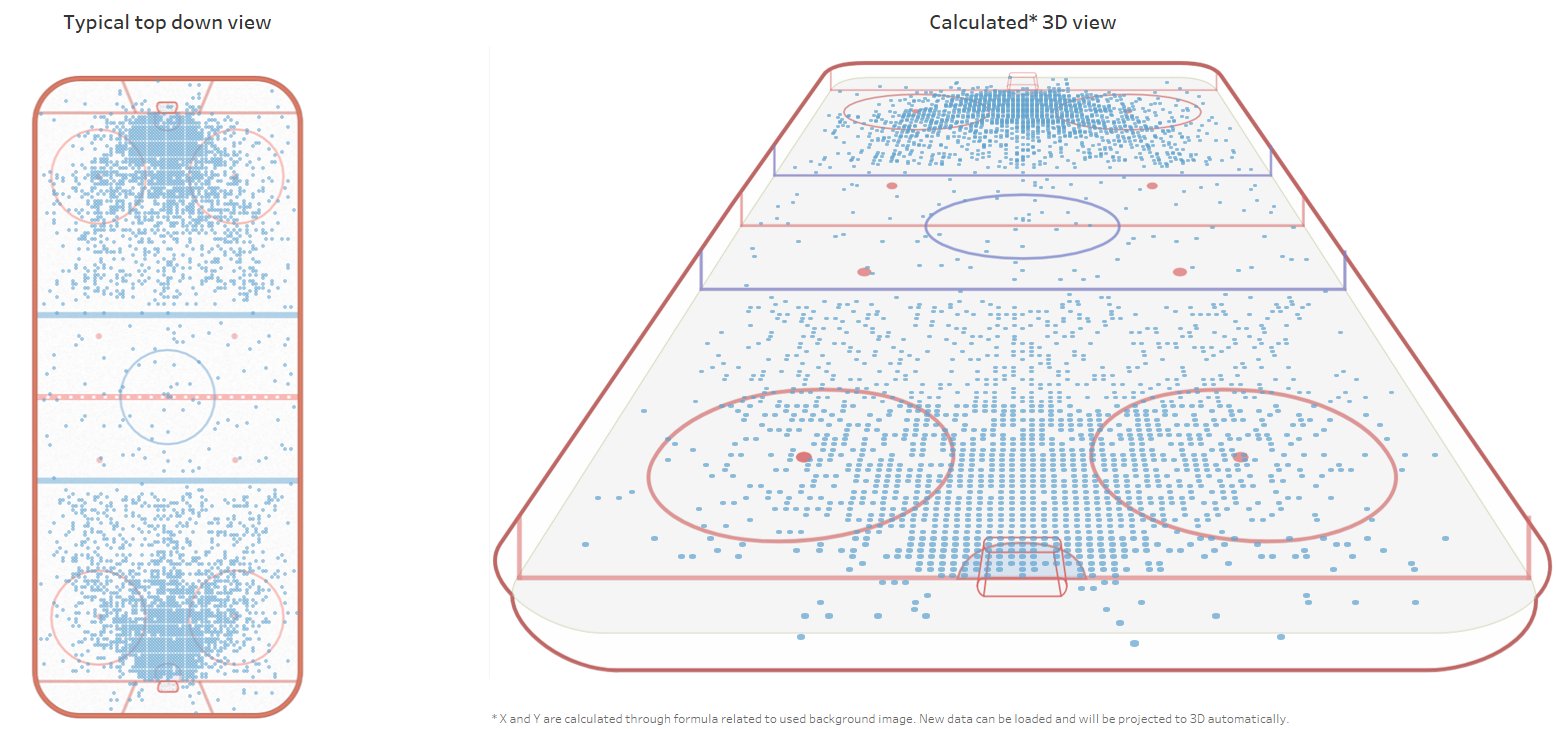 Ideally, I'd love to see this kind of information included in a broadcast, much as these sorts of things are included in baseball and even football coverage. Until that day, just keep your smartphone handy, and you can get this kind of live information that way. Peter, Robb, and R.J. are fantastic people, and they're among the many brilliant analysts who come out with great new gadgets every week.
Team-Building Model
Recently, I committed heresy by exploring the suggestion of trading Auston Matthews. Despite how much there is to discuss, I'm saving that for another day. Today's blog is about other items that have been on my mind recently about the world of hockey analytics.
However, I will talk a little bit about the team-building model that formed part of the basis for the argument. It's a multi-step process that tries to assign a value to each player's contract, based on their contributions over recent seasons, their age, their salary cap charge, and a few other factors. One of the beauties of this model is that the various components can be swapped out and replaced with other perspectives.
For example, the original model used Tom Awad's GVT as the catch-all statistic for each player's contributions (plus Delta, for defensemen). Since then, I've also tried Point Shares, and the WAR model advanced by Andrew Thomas and Sam Ventura, and the one designed by Dawson Sprigings. Well, I finally got around to running the numbers with Emmanuel Perry's WAR model, which is available at
Corsica Hockey
.
Regardless of the metric used, most teams are not well-positioned over the long term. Why? Because the only players locked down long term are those for whom teams are prepared to pay a premium. I mean, very few players are going to sign a long-term contract at a discount, right? That's why most long-term contracts are either fair, or overpays.
As such, the only teams in positive territory over the long term are Winnipeg, Anaheim, and Carolina -- although Edmonton didn't miss by much. Chicago is definitely in the worst long-term cap position, followed by Detroit and Florida, then a handful of teams like Vancouver, Dadllas, Buffalo, Calgary, Ottawa, and Minnesota.
When looking only at 2017-18, the league mostly sums up to zero, because this will include value-priced contracts, which are normally short-term arrangements. Whether short-term or long-term, the leaders once again include Carolina, Winnipeg, and Anaheim, followed by Edmonton. Montreal, Tampa Bay, Nashville, and Toronto are also in great shape, in the short-term. The team's in the worst cap situation this season include Detroit, Vancouver, Calgary, and Florida.
In terms of individual players, the best value contract is definitely Connor McDavid, no matter what metric you use. Unsurprisingly, he's followed by some really good, young, value forwards like Vladimir Tarasenko, Patrik Laine, Nikita Kucherov, and Nathan MacKinnon, with T.J. Oshie and goalie Braden Holtby in there as well.
At the other end of the spectrum, Aaron Ekblad is surprisingly the contract with the lowest value. Perhaps that shouldn't be a surprise, because $7.5 million over the long-term is a pretty hefty sum for someone who isn't in the Norris race, and possibly might not be more than once or twice in that eight-year span. To make matters worse, Keith Yandle is also in the bottom 10.
Brent Seabrook is second-last, and has been near the bottom for years, but it's only recently that people have started to see just how risky that contract has always been. Not all the contracts at the bottom of the list prove to be bad, but it's an interesting exercise to see which ones are worth keeping an eye on.
Individual Scoring Stats
As part of my
recent piece for NHL.com
about the members of the Vegas Golden Knights who have over-achieved to the greatest extent, I compared every player's scoring this season to what was expected, based on games played, and on previous career points per game (data from
Hockey Reference
, one of my very, very favourite resources). 
Needless to say, virtually every member of the Vegas Golden Knights is having a career season. But, it's also interesting to see how players around the league are doing, including the leader, Joshua Bailey of the New York Islanders.
+29.9 Bailey
+24.8 Karlsson
+24.5 Kucherov
+23.8 MacKinnon
+22.7 Couturier
+22.5 Rantanen
+21.1 Voracek
+18.5 Marchessault
+18.5 Namestnikov
+18.3 Wheeler
+17.6 Marchand
+17.2 Schenn
+16.1 Lee
+14.6 Haula
On this list, Karlsson, Marchessault, and Haula all play for the Golden Knights. It's quite remarkable that they hit 60 points at the 41-game mark, when the average expectations was 69 points on the whole season. How many points will they have the rest of the way? Well, certainly less than 60.
I briefly looked at all the other teams to earn at least 60 points in the standings prior to the 41-game mark, and none of them secured 60 points the rest of the way. Teams can get hot early in the year, or late in the year, but no team has been that hot all season.
Of the teams that earned 60 points through the first 41 games, I believe their average result in the final 41 games was around 50. I can't find the files where I did the math but, if I do, I'll update this with a more certain answer.
It's also possible the Golden Knights have been feasting on a relatively weaker division, and wouldn't be doing as well in, oh, say, the Central division. Liam O'Neil (@liam_oneil) added up the goal differential in each division, and the results are eye-opening.
As for the other end of the spectrum, it's not nearly as interesting. The list of under-achievers is mostly composed of players at the end of their careers, who couldn't possibly score at the same rate as they did in their prime. So, this list isn't nearly as insightful, but here it is.
-24.7 Spezza
-17.6 Jagr
-16.6 Kunitz
-15.7 Nash
-15.2 Sharp
-14.8 Crosby
-13.6 Jokinen
-13.3 Guentzel
-13.2 Hagelin
-12.3 Burrows
-12.3 Stajan
-12.0 Cammalleri
-11.7 Pominville
-11.6 Callahan
-11.5 Thornton
For another look at scoring, I calculated a weighted average of everyone's scoring rate from 2014-15 to 2017-18. I applied double the weight to games played this season to the previous, and then double again down the line. Here are the top 5-on-5 scoring rates for individual players over the past 3.5 years.
Points per 60/minutes (minimum 1,000 minutes played)
2.69 McDavid
2.58 Kucherov
2.57 Marchand
2.47 Schwartz
2.42 Kane
2.41 Getzlaf
2.40 Matthews
2.30 Tarasenko
2.28 Bjorkstrand
2.25 Tavares
2.25 Scheifele
2.25 Marchessault
2.25 Gaudreau
I don't think there are any shocking results here, except Bjorkstrand -- but that's probably just a small sample size.
Oh, and one last thing about scoring. I was asked whether some player's scoring results were skewed by getting a lot of opportunities to play at 3-on-3. The answer is no. Over the past three seasons, nobody has scored more than 13 points. That's just 4 or 5 points a season, even in the extreme. So no, nothing is really getting skewed.
13 Kopitar Gaudreau
10 Carter
9 Voracek Kane Pearson
8 Giroux Doughty Martinez Panarin
It's possible that some goalie data is getting skewed a tiny bit. So, I took a look at that. By the way, this 3-on-3 data, and the previous 5-on-5 scoring rate data, is all from
Corsica Hockey
website, which is a fantastic resource. But, I think anyone interested enough to follow my blog is probably already well familiar with that!
3-on-3 save percentage (minimum 50 minutes played)
.979 Bobrovsky
.963 Kinkaid
.941 Anderson
.927 Luongo
.916 Mason
.906 Greiss
.903 Murray
.902 Holtby
.900 Halak
...(League avg is .853)...
.791 Darling
.775 Howard
.773 Jones
.667 Gibson
One quick tidbit about goalies: Gord Miller (@GMillerTSN) recently tweeted that of the 80 goalies to play this season, only three catch with their right hand - Domingue, Lindgren, and Mason. Remember the conversation I once had with Darren Pang and Craig Simpson about how certain handedness of shooters have an advantage over certain handedness of goalies, I wonder if this actually boosts certain shooters. Sadly, I can't remember which handedness had an advantage over which!
Hockey Analytics in the European Leagues
If you have your copy of Stat Shot handy, flip to page 39. That's the page where there's a re-creation of Eric Tulsky's famous chart that shows the relationship between changes in goal differential, and changes in points. The relationship between the two is uncanny, and works out to one extra point in the standings for every improvement of 2.87 in goal differential.
Well, @bodega_stats has re-created the same charts in some of the European leagues, and discovered that it's much lower in Europe. Specifically, it's 1.44 goals per point in the Swedish league, and 1.895 in the Swiss league. Of course, bear in mind that the scoring system is quite different there.
Also in Europe, Petr Malina (@xpmalina) build one of my beloved player usage charts for the Czech league. I have no idea where he found the data for it, but it's really interesting.
It's a lot of fun to see a lot of the NHL's innovations applied to other leagues. 
If you love this stuff as I do, then you'll be pleased with my next book, which is set for release September 2018. Unlike Stat Shot, it is not exclusively NHL-focused, and has more content related to the European leagues, U.S. College, and women's hockey.
Nail him, coach!
On the lighter side of things, my year-end poll look at one of my favourite movies, Slap Shot.
It was a tight race between the player-coach and the goon, but it sounds like most fans would prefer adding the skill and experience of Reg Dunlop to their teams than to add the ultimate enforcer. There were some write-in choices for Mo, not to mention scoring-line forwards Ned Braden and Jean-Guy Drouin, but Dunlop won the day.
Closing Announcements
In closing, I have two events to promote.
First, is the
Vancouver Hockey Analytics Conference
March 2-4, for which tickets go on sale January 16. I was at the inaugural conference a few years ago, and they really do a great job. Vancouver is a hotbed of hockey analytics, and there are some brilliant minds there, and also some really awesome people personally. This is a great event to attend, and to support.
Finally, one last reminder of the special charity game in which I'll be participating tomorrow as part of Esso Minor Hockey Week. During the opening ceremonies, it's my honour to represent Rob Kerr's media all-stars as we take on Jamie Macoun's Flames alumni. I'm not crazy about our chances, but it's all for the kids, and it should be a lot of fun. I really hope to see you there.