As you can tell from the button on the left side of the website, I recently created a Facebook page as another way to keep up to date on my books, articles, conferences, and so on. To help launch this new page, I held a live video Q&A at 8:30pm Eastern on Wednesday, December 13. 
Now if you missed it (which you did, because only three people joined in), here's the video feed. Once the word gets out some more we can try again, and maybe have some trivia, and some contests, maybe some guest starts, and so on.
Winning
I saw this tweet from the legendary Grant Fuhr today, in response to a tweet where Bob Stauffer posted some of Edmonton's underlying stats, which are quite strong.
While I'll be lucky to ever know half as much about this game as Fuhr has already forgotten, here's my opinion on what he wrote.
Obviously, wins are what matter most. However, that doesn't mean that they are the "only stat that matters." 
Let's remove emotion from the topic, and take an example from another field. You go for an annual physical, right? Well, think about what your doctor does. He or she weighs you, takes your blood pressure, measures your cholesterol, and sticks a finger up your butt. Ok, don't worry about that last one, and just focus on the first three tasks. Your doctor is taking measurements, right?
Even though your heartbeat is what matters most, he or she doesn't just put a stethoscope to your chest, confirm this information, and send you on your way. No, measurements are taken, because your heartbeat isn't the only stat that matters, even though it matters most.
Plus, think about why your weight, and blood pressure, and cholesterol are taken. They are taken because being outside a given range can have an impact on your heartbeat. Not always, but certainly a lot of the time. If you're in good health but one or more of those items are out of line, then your heartbeat may be at risk. So, the goal has to be to get these measurements within that given range.
If your doctor failed to take these measurements (or disregarded the results), you would probably look for another doctor, am I right? So, if that attitude is unacceptable in the medical field (and every other field, really), why would it be the way to go in hockey? What's so special about hockey that we should actually disregard a team's figurative cholesterol count?
Now, I don't mention this to start an argument, or to disparage the perspective of a true champion. I'm only mentioning it to provide another perspective, and something else to think about. Yes, the Oilers are losing, and that is what matters most. The fact that many of their stats are in good order matters less, but it still matters. It is still useful and valuable information to consider. That's all. Next topic.
John Tavares
I got some positive feedback on my latest with
ESPN Insider
, which is rare. I don't mean to say that my work usually sucks, simply that people are far more generous pointing out occasions where your articles missed the mark (like last week's
NHL piece on rookies
, apparently), than when they found it insightful. So, it really stood out when the praise rolled in for this one.
Before finalizing the piece, I did try to capture the mainstream opinion of how much Tavares stood to get in free agency. A lot, apparently.
Maybe I should have dropped the first choice, and broken up the last one between $10.5 million and $11.5 million or more. But, as it stands, clearly the expectation is that Tavares is going to have a cap hit in the $10 million range.
I have tremendous respect for Tavares, and consider him easily one of the top 10 players, and possibly top 5 at his very best. However, if it's $10 million, then I think most teams would be better off using their cap space differently. 
That being written, teams do have to make a few calculated gambles to win the Stanley Cup, which requires several players break out and provide far, far more value than their contract requires. Typically, a few well-chosen third-line players won't move the needle by enough, but
 Tavares is the sort of player who could really make a huge difference, if he breaks out. Plus, it's not like he would be unmoveable if he didn't work out. 
So, while I wouldn't advise signing Tavares to a contract at $10 million or more, I certainly wouldn't call it crazy, either.
Montreal Goalies
While researching an upcoming piece on Henrik Lundqvist, I was studying historical goaltending data, which now goes back all the way to 1955-56, thanks to the great work of the digitizers at the NHL. Obviously, I stumbled across quite a few amazing Montreal goalies, and was wondering who was the best. First, let's get the subjective opinion:
From the statistical perspective, it may actually be Ken Dryden, and not Patrick Roy. That opinion is based on the SV%+ statistic, which is based on the ERA+ stat in baseball. Simply put, it is a goalie's save percentage expressed as a percentage relative to the league average that season. Dryden's SV%+ is 1400, which means it was 40% higher than the league average, on average. Roy was 1179, Plante was 1178, and Price is 1110, which means their save percentages have been 17.9%, 17.8%, and 11.0% higher than the league average, on average.
They shouldn't feel bad about trailing Dryden, because everyone does. Nobody who has faced more than 150 shots has a higher SV%+ than Dryden. Second place is the almost incomparable Dominik Hasek, 1280. I wasn't expecting anyone to finish ahead of Hasek, but Dryden is clearly out front. Yes, there may (or may not) be some team effects at play, because Dryden played for some amazing teams, but still, that's a hefty lead over Hasek.
In terms of individual seasons, Plante has the edge. Among those who faced at least 1,000 shots in a season, Plante had a SV%+ of 1747 in 1970-71, which is the highest of all goalies. He is followed by Bernie Parent's 1973-74 season, 1564, and then his own 1968-69 season, 1561. 
Dryden's best is 1521 in 1975-76, which ranks fifth, Roy's is 1365 in 1989-90, which is 29th, and Price is 1290 in 2014-15, which is 58th.
Player Usage Charts
Let's close by looking at some player usage charts that I've put together.
First, is a look at the Tampa Bay Lightning. Stamkos and Kucherov are getting a lot of the credit for the team's exceptional play, but take a player usage chart highlights the value of that second line, which used to be Ondrej Palat, Brayden Point, and Yanni Gourde. They handle the top opponents (vertical axis), and in both zones (horizontal axis) and have the nice blue circles that indicate success from a shot-based perspective. Yes, Stamkos and Kucherov have done well, but they have the advantage of taking on second-line opponents, and mostly in the offensive zone.
Since then, Gourde has been moved to the bottom six, Kucherov was put in his place, and Tyler Johnson got the golden opportunity to play with Stamkos. Oh, and Andrei Vasilevskiy deserves a lot of the credit for their hot start, especially now that Kucherov and Stamkos have cooled off.
Is there a Gourde on another team? Yes, there are a few rookies who are also handling the tough minutes in both zones, just like Gourde, based on the following player usage chart of the 35 rookie forwards with the most ice time. You'll notice that Luke Kunin and Jesper Bratt are right there with Gourde, and Alex Iafallo is not too far away.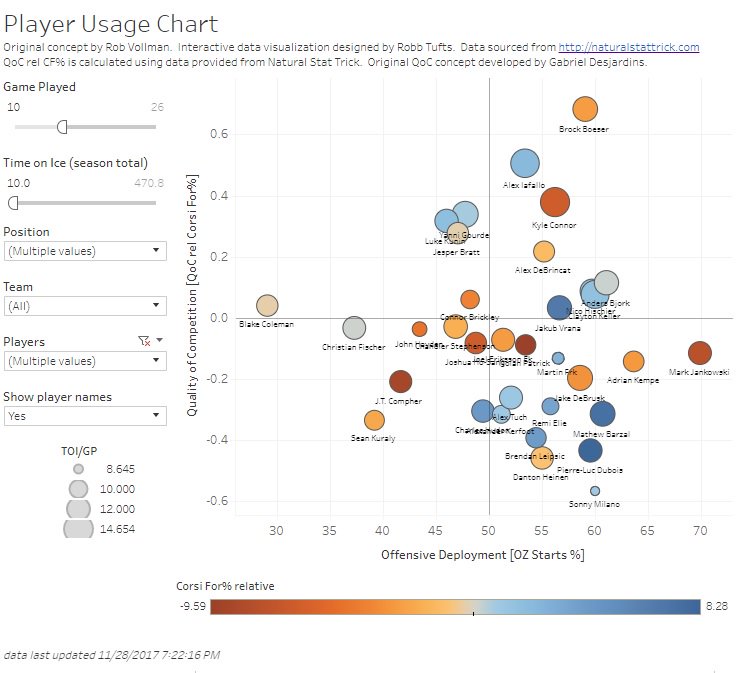 Great offensive players like Brock Boeser and Alex DeBrincat are being used more offensively, and aren't have the same success in terms of shot-based metrics, but they aren't far removed from Gourde, in terms of handling top opponents.
Finally, let's look at the rookie defensemen. Wow, Robert Hagg!
You don't often hear his name, but Hagg is playing tough minutes, taking on top opponents and in the defensive zone. Yes, his shot-based metrics aren't great, but that's quite an assignment for a rookie. As you can see, most rookies are somewhat sheltered. Even Charlie McAvoy is well-embedded in the bottom-right quadrant, playing more often in the offensive zone and against middling opponents.
Closing Thoughts
Save the date for the 4th annual Ottawa Hockey Analytics Conference that will be held at Carleton University on September 14-15, 2018.