My Thoughts
Subscribe to posts
Even though I haven't posted any new thoughts in this section since the regular season ended, and my weekly columns on ESPN Insider and NHL.com are on hiatus for the summer, that doesn't mean that I've been idle. I've updated all the data in the downloads section, I've been hard at work on the Hockey Abstract 2018 Update, my weekly radio spot on TSN 1290 is still on-going, and I'll be participating in the NHL's 31-in-31 feature series in August again this year.
I've also continued to comment on the scoring race, the playoffs, the NHL awards, the draft, and free agency on social media, and run the occasional opinion poll. In fact, I thought I'd share some of the more interesting things right here, right now.
Quite a few teams had a tough season, but it seems like the overwhelming feeling is that Edmonton's season was the most disappointing.
Forget the Art Ross Trophy, because here are the results of the All-Connor scoring race. It's another one for McDavid!
106 McDavid
56 Kyle
30 Sheary
28 Brown
13 Murphy
12 Carrick, Brickley
2 Hellebuyck
In other news, with a career-high 92 points, Anze Kopitar has led all Slovenians in scoring for the 12th consecutive season. Jan Mursak gave him a bit of a scare in 2011-12, I think.
On an only slightly more serious note, I did a first-name scoring race, as requested by Rob Denaburg (@rsd08). This does not include goalies, nor does it group variations of names together. If you do group names, I think Alex wins with 778, well ahead of John, 621.
By first name, the lowest scoring rate is Ben (minimum 200 games), with 29 points in 214 games, which is 0.14 points per game.
Here's another miscellaneous poll.
Pittsburgh was finally knocked off by the Capitals. Looks like fans still think Mario was number one.
With a combined 188 shots in the playoffs, Kuznetsov and Ovechkin fell just shy of the two-player record, held by Zetterberg and Samuelsson, who took 195 shots for Detroit in the 2007-08 playoffs.
The Vezina is always frustrating, because it seems to be based on wins rather than the goalie's own performance.
Wins: 1st, 2nd, 3rd
Save percentage: 3rd, 5th, 9th
Quality Start percentage: 2nd, 6th, 13th
Goals Saved Above Average: 1st, 4th, 9th
Conclusion: JUST WIN, BABY!
Colin Cudmore (@CudmoreColin) put together a list of how much cap space each team has in terms of retained salary, buyouts, and what not.
Goalies weren't a major story this year, but it looked like Bernier and Hutton battled for top spot.
We almost went the entire season without a coach getting fired. Actually, since the Rangers already played their last game when Vigneault was released, perhaps we did, on a technicality.
Who are this year's greatest overachievers? As one way of answering that, I compared everyone's points (as of March 15) to their three-year average points per game multiplied by the number of games they have played. 
I found that William Karlsson, Nathan MacKinnon, and Mikko Rantanen were on top, and ahead of the pack.
+42.9 W. Karlsson
+42.0 MacKinnon
+39.2 Rantanen
+29.4 Perron
+29.0 Bailey
+28.6 Marchand
+28.0 Kucherov
+27.5 Couturier
+27.1 Haula
+27.0 Hall
+26.6 Marchessault
+25.5 R. Smith
+24.9 Teravainen
+24.5 Giroux
+24.0 Fiala
Karlsson is such an interesting case. At the time, he had 
39 goals in 164 shots (23.8%), after a previous NHL total of 
18 goals in 233 shots (7.7%) and AHL total of 
10 goals in 127 shots (7.9%). I'm not sure I've ever seen this dramatic a transformation, except for the cases where a player was suddenly moved from a depth line to Mario Lemieux's wing.
I also found four other players for Vegas on that list, the only team to appear more than twice. I expanded the search, and counted up all the 
players who had scored at least 10 more points than expected, and Vegas has eight. Boston was next with six, then Minnesota, Philadelphia, and Washington had five, and Anaheim, Nashville, and Tampa Bay had four.
Karlsson got a lot of extra ice time, which would explain his extra scoring. I repeated my calculations, but looked at ice time instead of points. Karlsson ranked sixth overall, and third among forwards, and was one of four Golden Knights on the list.
+401.5 Schmidt
+400.6 Dumba
+383.2 Anderson
+373.1 Orlov
+365.7 Sissons
+339.7 W. Karlsson
+330.7 N. Schmaltz
+291.8 Haula
+284.4 Wagner
+283.0 Engelland
+264.5 Copp
+262.4 Pateryn
+252.2 Rakell
+246.8 Namestnikov
There are some really interesting names on that list, like Josh Anderson of Columbus. Despite an increase from 12:01 per game to 18:14, he has the exact same total of 29 points. Colton Sissons went from 11:07 to 16:05, and he went up to just 27 points. That's a jump from 10 points in 2016-17, but it's still not much. Extra ice time doesn't necessarily mean more points, especially if it's spent killing penalties or playing in the defensive zone.
There's no question that Vegas is the most surprising team this season, but I asked my Twitter followers who was next, and it sounds like it's Colorado, despite that top line being the only one to really defy expectations.
I also took a look at the rookies, and it stands out that 
Yanni Gourde has 61 points in 80 games, which is 0.76 points per game. In the AHL, he had was 0.66. We were only expecting about 25 points per game, especially since he's only 5-foot-9. He's like another Jonathan Marchessault. 
Looking at all other players who came up from the AHL last season, other 
big out-performers are Heinen, Debrusk, Kempe, Connor, Gibbons, and Bjorkstrand, all up by around 11-17 points apiece.
On defense, 
Charlie McAvoy is the one out-performing expectations. He had 
32 points in 60 games before getting hurt, but we were only expecting about 20, based on his Hockey-East scoring. Clayton 
Keller, on the other hand, is right on with expectations, as is just about everybody else who came from that conference.
The other interesting situation is how McAvoy was able to effectively play in a top-four role right away. 
With only a few exceptions, the numbers confirm that most new NHL defensemen are sheltered, in the offensive zone and against bottom-six competition. If they are used in more ambitious roles, like Santini, they usually get crushed. McAvoy is really one of those really rare cases.
What does this mean for the Calder race? Well, let's remove the defensemen who aren't rookies from the chart above, and add in the forwards. 
Remember, blue circles indicate good shot-based metrics, and big circles a lot of ice time. 
Tough minutes is towards the top left, more sheltered minutes to the bottom right. You can play with these charts yourself using the tool on my website.
You can see Gourde didn't get a free pass this year, and McAvoy looked like a great choice until he got hurt. However, Barzal will probably win. He's the one with the dark blue circle right in the middle of the chart. Can't complain too much about that choice, because only Dubois had comparably strong shot-based metrics, and he was used mostly in the offensive zone.
Getting back to the blue line, I made a player usage chart with each team's No. 1 defensemen. The archetype is some combination of 
Giordano, Letang, Josi, Doughty, Provorov, Suter, Ekman-Larsson, and Pietrangelo. 
It's not always clear who is each team's No. 1, but hopefully I'm close enough. I included Mc
Donagh for NYR, even though he's in TB now.
What does this mean for the Norris race? Well, it does appear that Morgan Rielly deserves some consideration. I mean, I wouldn't have him at the top of the list, but I'd certainly take a closer look. 
Since scoring is so important to voters, here's a player usage chart of every defensemen with 50 points (or within striking distance). Remember that b
lue circles indicate good shot-based metrics, big circles indicate lots of ice time, and tough minutes are top-left. With the injury to Suter, I really think Doughty is the clear front-runner, but we'll see.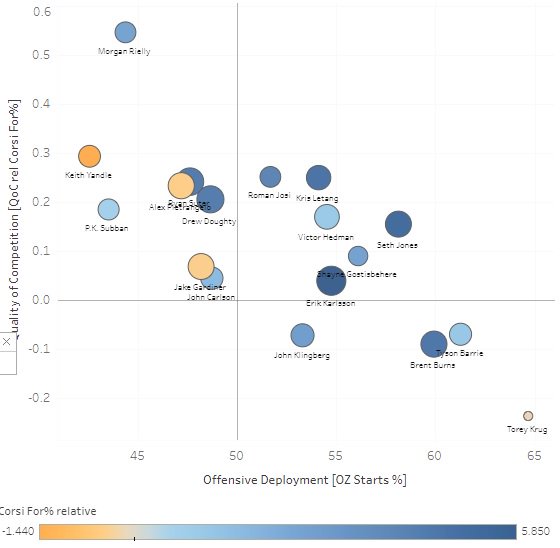 Whether Doughty wins the Norris or not, I was curious if he was viewed as the team's most valuable player. I certainly think he is. However, most fans gave the edge to Kopitar instead.
It's not that hard to see Kopitar's appeal. Among the NHL's top scorers, Giroux and Kopitar stand out by playing tough minutes against top competition (vertical axis), and in the defensive zone (horizontal axis), and still have good shot-based metrics (blue). That gives each of them a pretty solid case for the Hart trophy, since there's an unwritten rule that forbids you from giving it to a player whose team missed the playoffs.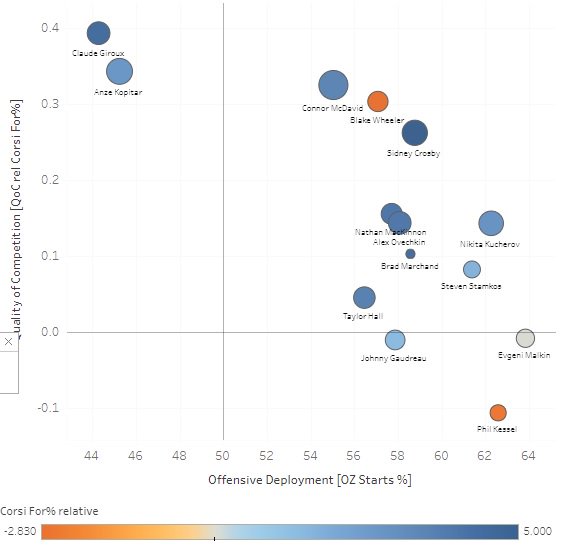 I asked everyone what they thought about that unwritten rule, by the way. Surprisingly, no one saw it as something that should rule a player out completely. That will probably comes as big news to Pavel Bure and Jarome Iginla, whose failure to win the Hart Trophy in separate seasons 15 years ago can't otherwise be explained.
It sounds like missing the playoffs is a factor, but only a minor one. If that's true, then McDavid has a real shot to win it this year.
In addition to those who exceeded expectations, I also looked for players who missed expectations, and there's a clear winner in that category: Jason Spezza of the Dallas Stars. He scored just 26 points in 76 games. His previous career low was 50, if you set aside the five games he played in 2012-13, and his 21-point, 33-game rookie season. Is this it for him?
-19.6 Jokinen
-18.2 N. Foligno
-17.2 Mi. Stone
-17.2 Dubinsky
-17.0 Sharp
-16.9 Lehtera
-16.8 Sheary
-16.7 Saad
-16.2 Letang
-16.1 Little
-15.7 Callahan
-15.6 Backstrom
-15.4 J. Johnson
-15.1 Pacioretty
-14.9 Nash
In something of a vicious circle, most of the players who dropped in scoring also dropped in ice time. One of the exceptions is Brandon Dubinsky, who dropped from 17:54 to 15:25 in ice time, but plummeted in points from 41 to 15. I usually don't see drops like that unless a player is injured, or he finds out I picked him in my fantasy pool.
Biggest drop in TOI, in minutes (based on 3-yr avg TOI/GP)
-357.1 Mi. Stone
-326.2 Kunitz
-318.0 Ennis
-317.4 Beauchemin
-316.2 Jokinen
-280.8 Lehtera
-266.2 Cammalleri
-265.7 Kulikov
-256.3 Russell
-252.9 J. Johnson
-249.0 Spezza
-246.1 N. Foligno
-236.9 H. Sedin
-236.9 Sharp
In case you're wondering, there is one team who had more players drop by at least 10 points than Columbus, and that's Chicago, with five. Buffalo, Calgary, Pittsburgh, and Vancouver were at three apiece.
Chicago is also interesting is that they're one of the exceptions to the generally 
close relationship between how often a team faces off in the offensive zone, and their share of shot attempts. I mean, if you start shifts in the offensive zone, then you get more shot attempts. And, if you get more shot attempts, more of them are frozen in the offensive zone, getting you more faceoffs there, right?

Maybe one of the more interesting exceptions are the Rangers, who usually start in the offensive zone, but have the worst shot attempt percentage in the league. On the other pole there are teams like Dallas, who have great shot-based metrics, but always seem to start shifts in the defensive zone for some reason. Perhaps this is how we can identify teams that might be "gaming Corsi"?
Odds and Ends
Well, we're basically already into the odds and ends section, so let's start with @CodexRex, who completed a
great study of officiating
, and found that r
oughly 1 in eve
ry 6 infractions are penalized (among other interesting findings). Does that sound right to you? I guess it does.
No player has been on the ice for more goals against than Wayne Gretzky, 2,286. 
(Data goes back to 1955-56)
With 6 points in his last 5 games, Marleau has reached the 40-point mark for the 18th time in 20 seasons -- exceptions were his rookie season and the 48-game 2012-13.
Justin Faulk scored 12 of his 34 career power-play goals in the first 65 days of the 2015-16 season.
I don't want to jinx it, but another remarkable situation is that no coach has been fired in 2017-18. 
In two days, Jon Cooper will have been coach of TB for five years, which is the second-longest single-team tenure among active coaches.
Gabriel Landeskog is +30 at home, but -11 on the road, largest gap in the league.
Malkin and Staal are now 2 of 7 active players 3 40-goal seasons. Ovechking 
(9), Stamkos (4), Gaborik, Hossa, Nash are the others.
With the addition of Wheeler and Voracek, there are now 14 active players who have recorded 60 assists in a season. 
With Giroux and McDavid, there are now six who have done so more than once.
Tavares has been on the ice for 108 opposing goals. 
No other forward over 90, and the most by a forward since Martin St. Louis in 2007-08, 113. Here's the list, since 2000. As you can see from some of the names on this list, this isn't exactly insulting to Tavares.
113 St. Louis 2007-08
108 TAVARES 2017-18
105 Bergeron 2006-07
105 Horcoff 2006-07
105 Lecavalier 2007-08
104 Richards 2007-08
101 Bure 2000-01
100 Amonte 2000-01
100 Messier 2000-01
And, that you should c
ontact Philip Giannini at philip@statstrack.ca or call (647) 505 3430 for more details about StatsTrack's new studying at your own pace course.
What if the last change didn't go to the home team, but was awarded in some other fashion? For instance, if it was based on the score, or the zone, or the manpower situation? I wonder how much of the home ice advantage would disappear? I may look into that. If you're aware of research in this matter, please be sure to send it my way.
Boston Bruins
One of the hottest teams in the league right now are the Boston Bruins. They have an amazing top line, a hot goalie, and their organizational strength has finally manifested itself, and solved their long-standing depth problem.
On February 9th, I noticed they had amassed 58 of a possible 70 points in the preceding 35 games, during which time they were 27-4-4, and outscoring opponents 124-68. To visually demonstrate that peak, I mapped out a rolling 35-game average all the way back to the 2005 lockout, and here's how it looked.
They actually got 59 points in a 35-game stretch ending in January 2009. That was the season that everything fell into place for the Bruins. Just like today's Golden Knights, everybody had a career season.
David Krejci jumped from 27 points to 73, which is still his career high, and led the league with a +37
Phil Kessel jumped from 37 points to 60, including 36 goals, which is one shy of his current career high
Dennis Wideman jumped from a career high of 36 points to 50, which he surpassed only once, with 56 points in 2014-15
Chuck Kobasew scored 21 goals in 68 games. The rest of his career, he scored 32 goals in 240 games.
In his final NHL season, 33-year-old P.J. Axelsson scored 30 points, the second-highest total of his career
Rookie Matt Hunwick scored 27 points in 53 games, and has yet to score 20 in a season since then
Mark Stuart scored 17 points, which still stands as his career high.
34-year-old Tim Thomas improved from .921 to a league-leading .933, and won the Vezina.
That really puts Boston's current performance into perspective. Everything is falling into place for Boston. Mainstream opinion is this makes them a legitimate Stanley Cup contender, something that certainly wasn't the case a few short months ago.
Quick note on the flip side: Columbus has made an about face in the wrong direction. On December 1, they were tied for third overall with a record of 17-8-1. Between then and February 10, they were 10-15-3, third last in the NHL. A very puzzling slide.
Market inefficiencies
In the salary cap era, there have always been a set of ever-changing market inefficiencies. Right now, there is a noticeable premium placed on mediocre No. 4 defensemen. 
We first saw this in the summer, with free agents like Karl Alzner ($4.625M/yr for 5 years), Dmitry Kulikov ($4.13M for 3), Kris Russell ($4.0M for 4), Justin Schultz ($5.5M for 3), Michael Stone ($3.5M for 3), and Brendan Smith ($4.35M for 4).
Recently, Smith was placed on waivers, so it appeared that this inefficiency was slowly being corrected. But then, the Canucks signed Erik Gudbranson for $4.0M/yr for 3 years. So, the trend may continue into this summer.
Granted, it's only an opinion that these are mediocre No. 4 defensemen, especially the first adjective. Based on their ice time and usage, most of them can be roughly classified as No. 4 defensemen as a matter of fact, but classifying them as mediocre is simply my interpretation of their underlying statistics. It wouldn't surprise me in the least if I was in error in one of these cases. Indeed, I received a surprisingly emotional and passionate defense of Kulikov on Twitter. However, most people agree with the overall sentiment, even if they disagreed with one particular inclusion.
What does this mean for NHL front offices? Well, it's a bad time to sign these types of players. If a team is looking to sign a defensemen, then they might better off trying to manage with a low-cost secondary option like Nick Holden, John Moore, or Mark Barberio, and investing the savings elsewhere in the lineup. 
Another market inefficiency was highlighted in the recent trade between the Los Angeles Kings and the Ottawa Senators which included Dion Phaneuf and Marian Gaborik. The former got an inflated contract because of PDO, and the latter because of playoff success.
Phaneuf signed his contract right at the end of the miraculous 2013 calendar year. Remember that period of time? Toronto was getting very badly outplayed every night, but won games because of high shooting and save percentages (which, when added together, form PDO). There's nothing wrong with a high PDO, but history has shown time and time again that it can't be sustained. But, in the excitement of that success, they paid Phaneuf (and others) far, far more than they otherwise would have.
If anything contributes to big contracts more than a run of high PDO, then it's playoff success. Gaborik is a good example of that, because he was simply amazing when the Kings acquired him at the 2014 deadline. They won the Cup that year, so they signed an injury-prone 32-year-old to a big, seven-year deal. Now, only a few years into the deal, Gaborik is actually considered to be a negative asset in the salary cap world, to the point where the average fan feels that Ottawa would have to throw in a 2nd-round pick in order for another organization to take his contract off their hands.
Now, I don't mean to be glib about this. They're both fine hockey players, and teams to have to make calculated gambles to win it all. Every team that has won the Cup did so by risking big investments in certain players. At the time, Phaneuf and Gaborik were viewed as those types of players. All I'm saying is that this is a market inefficiency. Those with high PDOs or who just came off playoff success generally get far larger contracts that identical players who haven't.
Just to take this to a more extreme example, consider Bobby Ryan's contract with Ottawa. As great as Erik Karlsson is, over a third of fans think that bundling Karlsson with Ryan's contract would actually negate his trade value. Of course, I have no explanation for Ryan's big contract, because he was signed right before the 2014-15 season, and for no particular reason - no playoff success, no PDO, no awards. I'm not quite sure how that contract came to pass.
This poll is still open, if you want to weigh in.
Odds & Ends
Are you following your local GoalBot on Twitter? The GoalBots for all 31 teams have been setup, and you can check the
Moneypuck website
for more information.
My ESPN article this week looked at
how to repair the Detroit Red Wings
, but on Twitter I asked a quick question about the Chicago Blackhawks, and if it made sense to trade one of their three core players and, if so, who? Mostly it was a split between Toews and Keith, but I'm really not sure what my opinion would be.
My friend Stan Nieradka (@smn013) recently pointed out that 14 (of 37) Avalanche players from last season aren't in the NHL this year. I once dabbled with the idea of evaluating teams based on how many of their players no longer played in the NHL after that season. I'd love to go back and run this test historically and see how close 14 is to the record.
Injuries are down this year, according to the data compiled by @NHLInjuryViz
It's a little surprising, but Florida's Bob Boughner is actually faring the best of this year's four NHL rookies coaches. 
There's buzz that Brassard could be moved at the trade deadline, but I think his value is being overestimated. Brassard is used almost exclusively for his scoring, and his scoring rate is roughly average. At 30, he may decline. As a Senator, Brassard has averaged 1.50 points per 60 minutes at 5-on-5. That ranks 201st among the 434 forwards to play at least 500 minutes in that time, according to the data at
Corsica Hockey
.
A few goalies have already moved, including Petr Mrazek and Darcy Kuemper. I like to look at rolling averages, so I can get a view of a goalie's upside, downside, and overall trend. In Mrazek's case, 
his peak was almost exactly two years ago, from which his numbers fell quickly. 
Now, he is gradually climbing back to league average (in orange), but is still slightly below.
As for Kuemper, 
he's playing at his peak, which he first hit early in his career. 
However, he has spent most of his career near the league average (in orange), with slumps in the 2015 calendar year, and last season.
As pointed out on Sportsnet, Edmonton could be on the verge of a historically bad season killing penalties.
Well, I guess I'm officially old. Jagr, who made his debut the month Germany was unified and the first web server was launched, has played his last NHL game (or so we assume). It was a real honour to
write an article for NHL.com
that included five interesting stats about his amazing career, including the fact that "Only 15.0 percent of active NHL players (145 of 967) have as many points in their entire career as Jagr has since turning 40." 
This wasn't in the article, but I since checked and confirmed that Jagr led his team in scoring 13 times, which is tied with Sundin for 2nd (since 1967), behind only the Great One, 19 times.
Offensively, it appears that his place in history is somewhere between third and seventh, and I can't say that I would argue with that assessment.
The NHL-Less Olympics
This week, my article for ESPN Insider is about the Canadian and American Olympic teams, which will not include NHLers for the first time since professional hockey players were allowed to compete back in 1998. 
The average fan is pretty jaded about how competitive these teams will be. Most fans see Team Canada as a strong AHL teams, and Team USA as a mediocre one.
I can't completely disagree with those assessments. As I explored in more detail in the ESPN piece, each team should be ok offensively, but are seriously lacking defense, penalty killing, and goaltending. However, I still think that Team Canada wouldn't be completely out of place in the NHL. They might find themselves in the draft lottery, but they'd essentially fit in.
Bo Horvat
For no pressing reason, I wanted to see what the general feeling was about Horvat's contract. In a summer piece for ESPN, I identified Horvat's as one of the better contracts of the summer. However, when I re-ran my model using the version of WAR found on Corsica Hockey, it actually seemed like a very bad contract. That's the sort of thing that piques my interest. 
To get to the bottom of it, I usually like to start by figuring out what the conventional wisdom is. Turns out, his contract is viewed to be about right. Perhaps Horvat deserves some of the credit for Boeser's success right out of the gate?
You'll probably see me digging deeper into this question in the near future, so if you have some insight one way or the other, be sure to reach out to me and let me know.
Odds and Ends
Someone born in 1922 had to wait until age 78 to see the Canadiens miss the playoffs eight times. There are 19-year-olds who may witness that this year.
The salary cap was $59.4M when Rick Nash's 8-yr, $7.8M/yr deal began in 2010-11, which is 

like $9.85M/yr in 2017-18, s

imilar to Jamie Benn ($9.5M/yr)

This summer, Panarin and Saad were traded for each other. Panarin leads forwards with a Corsi/SAT of +243, and Saad is 3rd, +230
There are four teams with at least five draft picks in the first three rounds of the 2018 draft: Colorado, Detroit, Montreal, and the Islanders. 

There are three teams with only one, San Jose (a first), Ottawa (a third), and Calgary (a third). 
However, the specifics of the Duchene trade could get Ottawa its first pick back, in exchange for the one in 2019.

Colorado has an amazing 10 players in their lineup on ELCs. That's obviously the most in the league, followed by 8 for Boston and Winnipeg. Given the relative success of those three teams, this appears to be a great way to get value out of your lineup and surprise the pundits. 

Then again, the next teams are Arizona with seven, followed by Chicago, Edmonton, New Jersey, and Toronto with seven. Seems like the first three teams are doing so out of necessity. 
At the other end, Minnesota has one, while Nashville, Ottawa, Tampa Bay and Washington have two each.

Fewest points by team scoring leader, since '67

38 Nick Bjugstad, Florida, 2013-14
39 Scott Pellerin, Minnesota, 2000-01
40 Paul Ysebaert, Tampa Bay, 1997-98
42 Ross Lonsberry Los Angeles, 1969-90
43 Jordan Eberle, Edmonton, 2010-11, John Tucker, Tampa Bay 1998-99, Adam Henrique, New Jersey 2014-15, Oliver Ekman-Larsson, Arizona 2014-15
I had almost forgotten how back those Tampa Bay teams were in the late 1990s. And it appears that 43 is the "Mendoza line" when it comes to leading a team in scoring
This week, I got a lot of attention for the following tweet about defensemen, and the plus/minus statistic.
I didn't tweet that to take a shot at plus/minus, because it's strengths and limitations have already been covered in some detail. In fact, the first time I was published in this field was on that topic, in the Hockey Research Journal back in 2001 (Iain Fyffe gave me a co-author credit). However, it is interesting that some of the game's most respect defensemen were among the league's worst in plus/minus. in fact, three of those players were in the all-star game!
One fan took exception to Jeff Petry's inclusion on that list. Sure, he may not be at the same level as Karlsson and Burns, but he at least belongs with defensemen like Goligoski. After all, he's been a solid top pair defensemen his whole career. Last I checked, he's his team's leading defenseman in scoring (which he has done before), he's top two in average ice time (which he has done every year but once), and over past three years he has boosted his team's share of shot attempts by 2.8% (which ranks 24th among D to play 100 games). He appears to be quite solid.
No, he'll never be in a Norris race, but then again, it's hard to figure out who is. 
Unlike the Jack Adams race, the race for the Norris Trophy is wide open, and I really have no idea who should be in the mix. However, I did put together a player usage chart that included every defenseman with at least 25 points, and can attest that Morgan Rielly, Roman Josi, Drew Doughty, and Ryan Suter are worthy of consideration. To this, most people add P.K. Subban as well. Certainly, someone from Nashville should be in the mix.
Artemi Panarin
I may not have an answer for the Norris, but allow me to throw out an unusual name for the Hart Trophy, Artemi Panarin.
Let me back up a little bit and tell you how this oddball idea came about. For no particular reason, one thing I've been looking at recently are these interesting "tails" that show up whenever you look at average ice time.
I didn't label the axes because you can easily make a chart like this yourself. Just grab every forward's average even-strength ice time, and it doesn't matter what season you choose, or how many games you choose as your cutoff, because you will wind up with a chart that looks like this. There will be a nice straight line from about 8 or 8.5 minutes per game all the way to about 15 minutes per game. But, before and after that range, you'll get those tails, beyond which there will be at least a dozen players at each end.
Predictably, those below 8 minutes per game are a combination of tough guys and part-time NHLers. Right now, the only five NHL regulars are Tom Kuhnhackl, Matt Martin, Michael Haley, Matt Hendricks, and Ryan Reaves.
Obviously, it is far more interesting to look at for those above 15 minutes per game. Right now, that includes 
Connor McDavid, Henrik Zetterberg, Nikita Kucherov, Ryan Getzlaf, Anze Kopitar, Mark Scheifele, Auston Matthews, and ... Artemi Panarin.
Normally, these players can be divided into two buckets:
 extremely good players who are way better than everyone else even when they're tired, and solid players on weak teams.
Right now, that latter bucket looks small (just Zetterberg, really), but last year it included several Buffalo Sabres. 
Either way, these are players who are given all the ice time that they can possibly handle. 
So how does Panarin fit in? For whatever reason, it just didn't feel like he belongs on that list, for either reason. I mean, he was acquired for Brandon Saad, who is just a middle-of-the-lineup winger for a team that's last place in their division. And, he plays with Josh Anderson and rookie Pierre-Luc Dubois, who also appear to be both middle-of-the-lineup sorts of players. Why, oh why, is Panarin getting so much ice time?
Then, I looked at his shot-based metrics. And hoo-boy. What an eye-opener that was.
Did you know that Columbus has outshot their opponents 905-662 when he's been on the ice at 5-on-5, for a Corsi of +243 that's sandwiched at the top of the leaderboard between Calgary's top defensive pair of Dougie Hamilton (+244) and Mark Giordano (+242)? 
Plus, it's not like Columbus is a shot-based powerhouse, because it looks like they get bombed when he isn't on the ice. Their Corsi percentage is a lowly 47.45% when he's on the ice, meaning they're responsible for 47.45% of all shot attempts (and their opponents 52.55%). When he's on the ice, that goes up to 57.75%. That difference of 10.3% is unusually high. Second place is Jordan Eberle at 9.33% (and that's just so the hockey gods can continue to mock Oilers fans), followed by well-known shot-based metric masters (gamers?) like Nino Niederreiter and Mathieu Perreault.
So, maybe Panarin does belong on that list, and should receive some consideration for the Hart. My eyes have been opened. Expect me to watch Panarin more closely, and study this matter further. 
Trade Value
As we head towards the trade deadline, one of my recent themes has been finding a way to consider a player's cap hit when doing a valuation. That's really what the whole Auston Matthews analysis was all about. It's not enough to be a great player, each individual has to find a way to contribute over and above what the team would receive investing the same cap space elsewhere.
Obviously, trading the Sedins is a fantasy exercise, but (almost) everybody seems to agree that their combined cap hit of $14.0 million makes them an unattractive trade asset, despite how undeniably talented and useful they are to practically any playoff team.
Even when retaining as much salary as possible (which, I believe, is half of one of their salaries, or $3.5 million), the average fan still felt that a second-round pick or an equivalent prospect was the right return for Daniel and Henrik Sedin. That's basically what they got for Alexandre Burrows (Jonathan Dahlen) and Jannik Hansen (Nikolay Goldobin). In fact, 1 in 5 fans didn't think they should even get that.
For more on the trade deadline, you'll want to check out this week's articles for ESPN. Last week, I mentioned how I 
used a great website called Pro Sports Transactions to gather the raw data of every trade that occurred within a month of the trade deadline, all the way back to 2005. I identified how the volume of trade changes as we get closer to the deadline (of February 26 this year), and which teams are most active. Well, I broke down each GM's history, and figured out how many trades they make per year, including how many they make in the final days, and ranked them in the East, and West.
Icing Happen
A relatively unexplored area of hockey is icings. Statistically, what is the impact of an icing, what strategies force or lead to icings, which teams and players ice the puck more (or force more icings), and what's that worth?
To take a step towards answering that question, R.J. Weise (@rjweise) has put together a
series of visualizations
, including the following. He also wrote an article about the various challenges in
gathering the data
, which will be fascinating to anyone who likes to see how things are done under the hood.
Scoring per Season
There's no easy segue here, but for no real particular reason, I put together a list of the average scoring rate (points per game) of the NHL's top 10 scorers. To be clear, this is not the average of the top 10 players in points per game, but the average points per game of the top 10 scorers. 
As you can see, being a point-a-game player means a lot more today than at any other point in modern history. A chart like this can help put today's scoring achievements in context.
Closing Thoughts
Just one point in closing this week. A significant number of of my friends and followers live in or near Toronto, and so they may be interested in attending the
Fields Sports Analytics conference
May 24-25. Yes, it is pricey, but it could be an interesting event, and you could have some conversations with insightful people.
I'm hiring a graphic artist for the Hockey Abstract 2018 Update. To apply, email vollman at hockey abstract dot com by February 15 with the subject Graphic Artist, and please be sure to provide a sample of your work.
Like the 2015 and 2016 editions, the Hockey Abstract 2018 Update will be in PDF format only (not in print), will be about 100 pages, and will feature updates to the stats and innovations covered in the various books in the Hockey Abstract series. It will also feature player usage charts and analysis for all 31 teams.
The key difference with the 2018 edition is that it will be in full colour, have a lot more charts and tables, will be in two columns, and will aim to have more of a lighter, mainstream feel to it. As such, I need a graphic artist to help me with that layout.
Responsibilities will include designing a header, footer, and background for each page, designing all the tables, charts, and graphs from the data that I provide, and essentially being responsible for the overall look and feel of the Hockey Abstract 2018 Update -- it will be released the first week of August 2018. If I can successfully negotiate the usage of player photographs, then the responsibilities will include the selection and layout of those as well.
As for compensation, there isn't a great deal of profit in these digital updates, but I place a high value on the work of others, and aim to share whatever money is made as generously as possible. We can agree on a set amount for your work, or a percentage of the profits, or a combination of the two.
Putting together these updates is the best part of my entire year. It's a lot of fun, very rewarding, and people really appreciate the end result, and how it helps unleash their passion for hockey, analytics, and the coming season. If you're interested in joining me as the graphic artist for the Hockey Abstract 2018 Update, then I look forward to receiving your email at vollman at hockey abstract dot com by February 15.
The trade deadline is approaching fast -- February 26, 2018. As such, I've already been studying the history of the trade deadline, and exploring what various organizations might be doing for the next month and two days.
As I wrote in my recent piece for
ESPN
, "since 2005, there has been an average of 40.6 trades in the month leading up to the deadline, 21.3 of which occur on the final day and 7.3 in the two days previous, based on the raw data made available at
Pro Sports Transactions
." Here is that information in chart form.
Obviously, some organizations tend to be more active than others. Specifically, the Ducks and the Coyotes tend to make a lot of deals, while the Red Wings, Stars, Predators and Islanders are known for making very few. 
You can't always go by what you see on the chart, of course. For example, if the view was restricted to just the six seasons since they moved from Atlanta, then the Winnipeg Jets would be at the bottom of the chart, not the Red Wings. It's also interesting that Lou Lamoriello didn't make every many moves when he was with the New Jersey Devils, but has been quite active with the Toronto Maple Leafs. In some cases, teams are very active when they are sellers, but don't so much as buyers -- Detroit may fall into that category. Finally, we really don't know what to expect at all from Buffalo or Los Angeles, who have brand new leadership. So, it should be an exciting year.
Colorado is Hot
My piece for NHL.com is about the red-hot Colorado Avalanche, whose 10-game winning streak came to an end last night in Montreal, 4-2. To demonstrate how impressive this is, Namita (@nnstats) calculated that the odds of a 27-19 team achieving this feat is about 25-to-1.
With that loss, that leaves just two teams undefeated in 2018 in regulation time, Calgary and Boston -- the latter of whose streak dates back to December 14, and is expected to stay that way the longest.
So what's to credit for Colorado's surprising winning streak, which has lifted them back into playoff contention? Of all factors, the conventional wisdom is that Nathan MacKinnon deserves the lion's share of the credit.
I have a different theory about their winning streak, eight games of which occurred at home. Colorado has the second-best record in the NHL at home, but has been relatively easy to dispatch on the road. Why?
The key advantage to playing on home ice is getting the last change. That allows coaches to match lines, and to get their top offensive players in advantageous situations, shut down the top opponents with their best defensive players, and shelter their weaker rookies and depth players. Theoretically, those with the biggest differences between their home and road records have the greatest need to do this.
Continuing this example, at home Jared Bednar can make sure that MacKinnon, Landeskog, and Rantanen avoid the top opposing checkers, he can get Carl Soderberg, Blake Comeau, Matt Neito and defenseman Erik Johnson against top opponents, and then carefully shelter the secondary players, which include an average of 4.4 rookies per night. On the road, he can't do that, and opponents can target MacKinnon, avoid Johnson, and feast on the depth lines. 
You can clearly see this in a player usage chart -- look at the vertical gap between the top lines and the depth, and the difference in shot-based metrics denoted by colour (blue is good, red is bad)
Every team has to contend with this, but few teams have the same disparity in talent between the top players and the depth. If my theory holds water, then Colorado might fall out of playoff contention in their next 14 games, 11 of which are on the road. If I'm wrong, well then I'll learn something new by studying their games closely.
Washington's Cap Management
The recent discussions on Auston Matthews and the difficult cap management choices the Toronto Maple Leafs have ahead of them has prompted some fans to re-visit how the Washington Capitals handled their cap-related woes this summer. 
For better or for worse, the Capitals let Karl Alzner, Justin Williams, and Marcus Johansson sign elsewhere for a combined total of $13.7 million, let Nate Schmidt go in the expansion draft, and invested $18.65 million long term in Evgeny Kuznetsov, T.J. Oshie, and Dmitry Orlov. At the moment, Washington is first in the tough Metropolitan division by five points, leading to the popular perception that they have navigated the salary cap as well as teams like the Chicago Blackhawks.
About a third of fans are happy now, but have raised legitimate long-term concerns about the decisions that the Capitals made. Based on the contracts that were signed, it might have been best to keep Schmidt on defense instead of Orlov or Alzner, to trade away Kuznetsov for a replacement No. 4 defenseman (and possibly some picks and prospects), and then use the extra cap space to retain all three of Oshie, Williams, and Johansson up front. 
I know that there's some reluctance to part with someone with Kuznetsov's upside, but the salary cap era isn't about having the best players, it's about having the best bang for the buck. Kuznetsov has the 22nd highest cap hit in the NHL, but is tied for 32nd in scoring -- even with a solid 43 points in 48 games. Plus, when you consider goalies, defensemen, and defensive-minded players, Kuznetsov probably ranks even lower among NHL players, possibly even outside the top 50. And, at 25, he's likely already at his peak right now, and won't get significantly better over the duration of his contract. To be clear, 
I'm not arguing that trading Kuznetsov is absolutely what Washington should have done, I'm just suggesting the possibility that it's the kind of move that was worth strong consideration.
Closing Thoughts
There was a minor ruffle in the hockey analytics community this week, with very public accusations from prominent names that ranged from failing to properly research and/or cite one's work, all the way to outright plagiarism. I don't know enough to weigh in on any specific case, but I agree in spirit with the philosophy of looking for and mentioning existing research on a topic before diving into it. In fact, it was tip No. 4 for contributing authors, in
Hockey Abstract 2017
.
However, I know first-hand how hard it is to keep up to speed on everything that's out there, so it's understandable that some pretty notable studies get missed. In fact, even some of those who were pushing this point the hardest on social media
have at some point been unaware of contributions so well-known and so significant that their ignorance appeared to be deliberate -- but it rarely is.
Obviously, the controversy made for a difficult week for those involved, and I feel for them. However, the silver lining is that we are finally starting an important discussion about something that has been going on for a long time but was never really mentioned until it applied to the specific personalities involved in this particular case. 
Nobody can stay on top of everything, but an honest effort to mention related studies is worth investing a little extra time, in my opinion. However, how people invest their time, and the balance that people strike between promoting their own work and that of others, are matters of personal taste that can vary dramatically from one individual to another. If you found this whole incident upsetting, the best way to deal with it might be to adjust your own.
My recent article on ESPN Insider explored the idea of
trading Auston Matthews
, and tried to land on a situation where it might make sense. Despite the modest tone, even the mere suggestion that such a possibility should be examined had exactly the outraged response that any reasonable sportswriter would expect. Even at my beer league game that Friday, someone in the locker room asked me if I heard about the idiot who wrote that Matthews should be traded. 
Well, having taken a week for things to die down and for everyone to move on, I decided to devote today's blog post to this experience, and what I learned from it. The primary focus is on the subject matter itself, but I chose not to completely avoid the non-hockey aspect, and have a few thoughts on online sports debates in general.
1. How Many People Disagree?
The great majority of people completely disagreed with the idea of trading Auston Matthews, but not necessarily because there was anything wrong with the argument itself. In most cases, they simply don't think Matthews shouldn't be traded, no matter what. He could ask for $16 million, lose a leg, and they'd still argue that the building should be burnt to the ground before Lou picks up a phone. Well not really, but you get the idea.
Based on a Twitter poll, only 18% of fans would consider trading Matthews for anything less than a Lindrosian offer (e.g. for McDavid himself, or some crazy haul). That means that no argument would ever persuade most people that this option should receive any consideration.
2. Is Matthews at McDavid's Level?
There are two possible explanations for these results; either Matthews is viewed as the (second) most valuable player in the NHL, or there's a philosophical opinion that a team's top player should never be traded, no matter who it is.
Personally, I think it's the former case. If
 I ran the same poll with McDavid instead of Matthews, I'd probably get the same response, or even lower than 18%. But, if I ran it with Nikita Kucherov, Johnny Gaudreau, Vladimir Tarasenko, Jack Eichel, or anybody like that, I probably wouldn't. I'm totally speculating here, but they'd probably all be safely above 20%, or even 30% and 40%, despite the fact that they each have far more reasonable cap hits.
To test that theory, I ran another poll to see just how many players are classified as non-tradeable, like Matthews and presumably McDavid. If there were only a few, then that means people perceive McDavid and Matthews as sort of a 1A and 1B in the world. If that's the perception that people have, then I can definitely understand why they wouldn't want to trade him under any circumstances. In that case, I should have invested more than one paragraph demonstrating that there are few indications that's he's at that level. And, if some of the NHL front offices feel the same way about Matthews, then that means there's a huge possibility of getting a Lindrosian offer for him.
On the other hand,
 if there are a lot of players who were felt to be non-tradeable, then it's more a philosophical discussion about trading away franchise players in general. However, the results seem to suggest that's not the reason for the first poll's results, and therefore Matthews must be perceived to be in very, very select company of five or fewer players.
3. Should You Ever Trade a Franchise Player?
Despite those results, some of the objections I saw through social media, on message boards, and in the comments involved a philosophical opposition to the idea of trading franchise players at all. Many felt that Lindros was pretty much the only example of a case where that worked out.
This is really a separate topic but, even if it's true, we need to know why it rarely works out. There are any number of reasons why trading franchise players hasn't worked out in the past (assuming that's the case), and some of them might not apply anymore, nor may they apply to this situation. Just knowing that something hasn't happened in the past (assuming it didn't) isn't enough -- we need to know why. This would be a great future study, no doubt.
4. Are Centres More Important Than D-Men?
Another great topic for future study is whether it makes sense to trade 
away a franchise centre, especially for a defenseman. To defend this theory, some fans pointed to recent Stanley Cup winners, and argued that almost all of them had a franchise centre.
First of all, it's a matter of opinion just how many recent Stanley Cup winners truly had a franchise centre -- which means they must be among the NHL's top five at that position. Sidney Crosby certainly qualifies, but do Anze Kopitar, Patrice Bergeron, and Jonathan Toews? Perhaps -- but there's an argument either way. I chose top five arbitrarily, because by definition the majority of the 16 playoffs teams are likely to have someone in the top 10.
Secondly, the pool of Stanley Cup winners is pretty small -- just four teams in the past eight years. If we expanded the list to include all Stanley Cup finalists, would we find the same pattern? Last year, two of the four finalists were strong down the middle (Pittsburgh and Anaheim) and two weren't (Nashville and Ottawa). That's still not enough data on which to judge, but if it was true that you MUST have a franchise centre to be a contender, then they should be overwhelmingly present among the finalists, and mostly absent from the early eliminations.
While that's certainly another great study for another day, I can venture an opinion on that right now. In short, m
y position is that teams 
should maximize the value of their roster regardless of position. At times, one position or type of player is overvalued and hard to acquire, and at other times they're plentiful and affordable. You need to navigate these "market fluctuations" and assemble the best possible roster at any given time. For most teams and at most times, that won't always include a franchise centre. However, this is a matter of personal opinion, and I don't have any kind of formal study to back it up.
5. What Would be a Fair Return for Matthews?
Sometimes, the counter-argument was there was just no way for any team to construct a fair offer for Matthews that was in any way realistic for the other team. Well, part of my theory was that some team would get swept up in the same hype and hysteria that we saw from the fan response to this article, and actually make an offer that was far too generous, and not in their own interest. 
Quite frankly, it's difficult to construct a win-win trade that involved Matthews -- but not impossible. 
Since I was mostly exploring the merit of the whole idea, I only pitched a couple of rough ideas that pointed in the right direction. However, Evan Presement took a closer look on 
Leafs Nation
, if you want to explore this idea further.
6. Couldn't Toronto Get a D-Man Another Way?
Absolutely. For Toronto, Plan A has to be to find that last missing piece of a strong, top-pair defenseman through free agency, or by trading away picks, prospects, or players other than the team's franchise player. Worst case scenario, Plan B would involve moving someone like Mitchell Marner or William Nylander instead.
Just because trading Matthews isn't Plan A doesn't mean that it shouldn't be considered at all. Toronto needs to get on top of all of its options, right? If the veteran free agents and players like Marner and Nylander all sign very reasonable contracts, or if no other organizations seem to be offering much in exchange for any of them, then Toronto has to be ready to start moving down the list to Plan C and D --although trading Matthews is probably more like Plan K or Plan L.
There was at least one fan on social media that was particularly passionate about this point, and felt that it should have been the focal point of the article, instead of focusing on Matthews. In fact, he got very passionate. I love passion, because without passionate fans, there wouldn't be a demand for sportswriters. And, I always have the greatest respect for the opinions of others -- not that anybody needs that to have one!
Usually, most fans settle down when you respond respectfully and cordially, back off the hyperbole, and engage in grounded discussion. However, with a topic like this, 
some fans get understandably swept up in their passion. In one particular case, b
ecause this fan would have gone in this different direction with the piece, he argued that my work was sad and insane, and that fans deserve better than a lazy troll writing irresponsible nonsense who doesn't show his work, has deliberate omissions and egregious oversights, dodges questions, and only cares about money and clicks. Surprisingly, he didn't classify any of that as either hyperbole, or a personal attack. However, I do think he captured the spirit of most fans.
7. Were There A Lot of Personal Attacks?
Yes, but not nearly as many as I expected. 
We're getting off topic a little bit, but I didn't want to ignore these types of questions completely, because I do think things have become more civil than they used to be. 
Years ago, when I worked for Bleacher Report, it was perfectly normal to be subjected to a stream of vulgarities and profanities after even the most benign article, not to mention threats, questions about my sexuality, and detailed accounts of intimate encounters with my mother. I honestly had no idea my mother was so popular until I became a sportswriter. 
To my knowledge, none of that was the case this past week, so either my mother has settled down, or things have become more civil.
Yes, I got called an idiot, a moron, a troll, and so on, but that's really no big deal. 
For example,
Dean Blundell
tweeted that "
ESPN's Rob Vollman Thinks The Leafs Should Trade Auston Matthews. Also Rob Vollman is an idiot." On his website, he proceeded to quote the entire article EXCEPT the conclusion, probably because it didn't fit his narrative. Here's the conclusion:
Most of the people who argued with me were essentially paraphrasing my own closing words. That's why it isn't unreasonable to suspect that Blundell left off this closing argument on purpose.
That being written, I'm also surprised that he would post (almost) the entire article on his website. I don't do that on my website, and I wrote the darn thing. All you'll find here is the opening paragraph and a link to ESPN Insider. After all, I don't own this work (and neither does Blundell) -- ESPN does. Even if I wanted to use my own work in another article or another book, I'd have to reference the original piece.
Speaking of ESPN, I'm also surprised that so many of the personal attacks were aimed at them, instead of me. Or, at least, in addition to me!
None of this really bothers me, because I believe in my work. I didn't just roll out of bed and write this article, it's based on the model introduced in the first chapter of Stat Shot. I believe in this model. It's the culmination of many of our field's major advances, it 
has worked well in countless other situations, and it's similar to models in use in NHL front offices. 
Some detractors told me I should be fired, or that I should quit and do something else, but the reality is quite the opposite. If I didn't believe in my work enough to write this article, THAT is the day I should quit (or get fired).
Despite all the work that went into it, popular opinion was that this article qualified as clickbait. To be honest, I wasn't even sure what that even meant before this past week.
I've never been accused of writing clickbait before. This is my 10th season at ESPN, and I have also written for several other sites, and this has never come up for either me, or the site's other writers. In fact, I even had to look up what clickbait even was.
The most common definition for clickbait is "content whose main purpose is to attract attention and encourage visitors to click on a link to a particular web page." I guess the key phrase there is "main purpose", since every article seeks to attract attention and wants to encourage people to check it out. Further research adds some clarifying criteria to this definition, such as it has to be full of ads and designed to increase advertising revenue, and the content itself is usually of no merit whatsoever, and possibly even unrelated to the title.
Since there are no ads on ESPN's website, since I don't get paid by the click, and since the article itself clearly involved a great deal of research (whether you agreed with it or not), it certainly doesn't appear to be clickbait. In fact, nobody who was familiar with me or my work, and very few people who actually read the article classified it as such. I was even honoured when Richard Deitsch tweeted that "
I would not deal Auston Matthews. But this was a reported and intellectual look at such a potential deal. Appreciate seeing something smart when I expected a pure page views play." And, in a recent article for The Hockey Writers, Ben Brown wrote that "t
he article itself was thought-provoking, and there was a lot of statistical analysis to support the premise, but I'm still not buying what Vollman is selling, for various reasons."
In my view, both Deitsch and Browne accurately summed up the prevailing opinion of those who really keep up to speed on hockey journalism -- that they appreciate the argument that was made, but they disagree.
However, I can certainly understand how someone would think it was clickbait based solely on the title. If they were unfamiliar with me or my work, and didn't read the actual article, then they would have no way of knowing the difference between this article, and actual clickbait, based on the title alone. For that reason, it's hard to take any of this too personally.
9. Who Wrote the Title?
I didn't choose the title ("The Case for Trading Auston Matthews"). In fact, I've never chosen a title. Titles are typically chosen by the site's editor, as are any accompanying photos. Sometimes, the title even changes after an article is published. Obviously, the writer can suggest title, and object to the editor's choices, but this is
 the standard practice everywhere that I have worked.
10. Who Chose the Topic?
I did. On occasion, the editor assigns me a topic, but usually I pitch a variety of ideas, and they pick their favourite one, or a slight variation thereof. In this case, this was my only pitch. It was something I've been meaning to write for awhile, and now seemed like the right time to do it.
Normally, the editor just gives me a red light or a green light, but this time I got a yellow light. He wanted to know more about my particular angle. Once I laid it out, he loved it, and I forged ahead. I also filed it earlier than usual because we wanted to make sure that the arguments were clear and well-defended, and that I struck the right, modest tone.
Still, we weren't ignorant to the reality that it would cause a lot of controversy. If anything, that was a minus, not a plus. But, ESPN does pride itself on offering content that you can't get elsewhere, and you have to admit that they certainly achieve that goal this time. Thanks for reading.
Inspired by the
Fourth Down Bot
in football, @ThePullBot calculates the ideal time for the trailing team to pull the goalie in each game, and tweets it out. It also tweets out when the team actually pulled the goalie, and remarks at how the odds of winning the game go up and down as goals are scored on the empty-net, or with the extra attacker.
We also collaborated on one Twitter Bot per team that tweets about how the odds of a team winning change with every goal. You can follow just the Bot for your favourite team, or follow all 31. Here's the
@LeafsGoalBot
, for example.
While it's not a Twitter Bot, one of my favourite gadgets is the
player usage chart tool
, which the venerable Robb Tufts up to date, which can be accessed in the menu on the left-side of my Hockey Abstract website. He also has some ideas brewing for some extra bells and whistles, so stay tuned.
Recently, I also had the pleasure of meeting with R.J. Weise (@rjweise), who showed me some of his awesome work. Here's just one taste, which is 
NHL shot data in 3D form
. Check this out, as well as all of his other awesome work.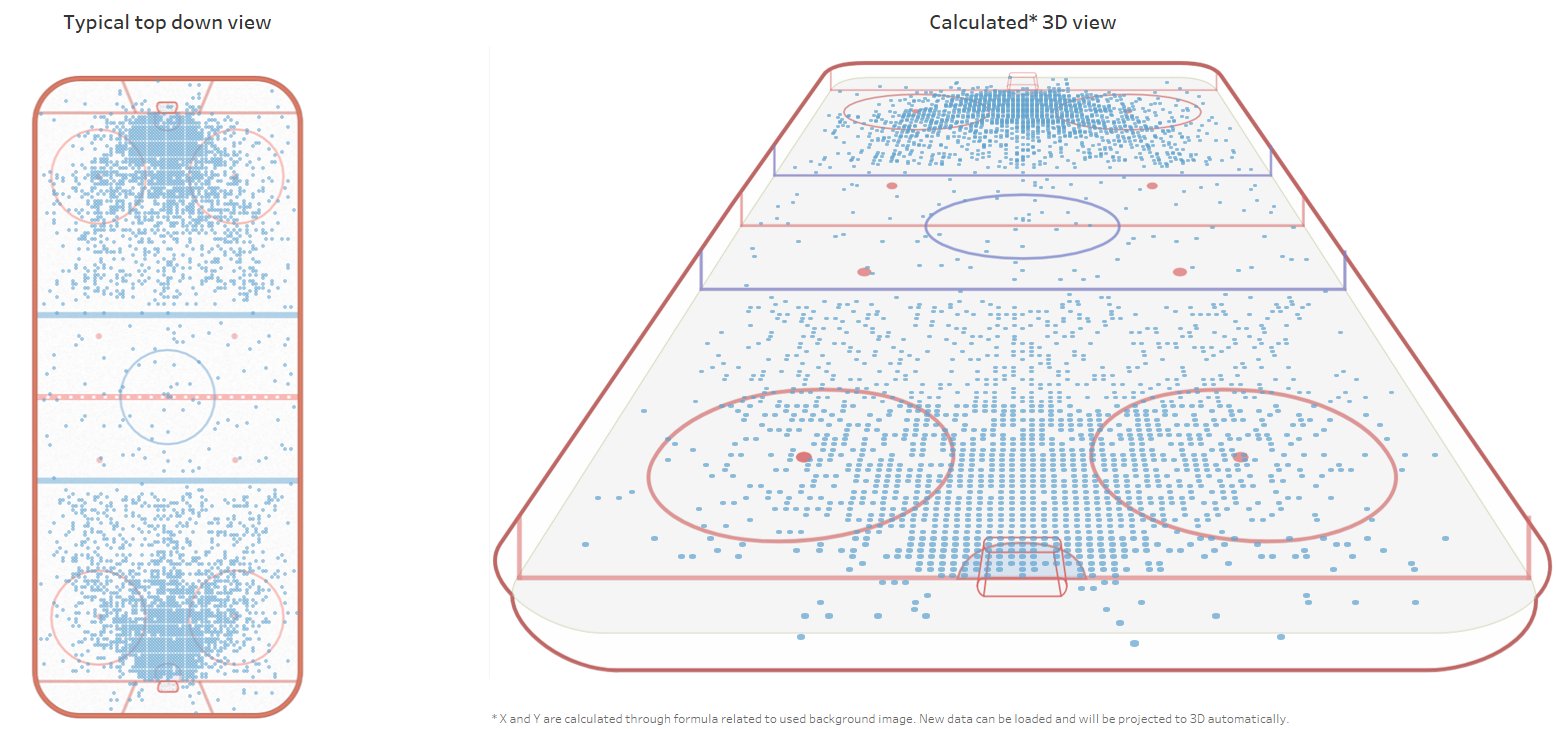 Ideally, I'd love to see this kind of information included in a broadcast, much as these sorts of things are included in baseball and even football coverage. Until that day, just keep your smartphone handy, and you can get this kind of live information that way. Peter, Robb, and R.J. are fantastic people, and they're among the many brilliant analysts who come out with great new gadgets every week.
Team-Building Model
Recently, I committed heresy by exploring the suggestion of trading Auston Matthews. Despite how much there is to discuss, I'm saving that for another day. Today's blog is about other items that have been on my mind recently about the world of hockey analytics.
However, I will talk a little bit about the team-building model that formed part of the basis for the argument. It's a multi-step process that tries to assign a value to each player's contract, based on their contributions over recent seasons, their age, their salary cap charge, and a few other factors. One of the beauties of this model is that the various components can be swapped out and replaced with other perspectives.
For example, the original model used Tom Awad's GVT as the catch-all statistic for each player's contributions (plus Delta, for defensemen). Since then, I've also tried Point Shares, and the WAR model advanced by Andrew Thomas and Sam Ventura, and the one designed by Dawson Sprigings. Well, I finally got around to running the numbers with Emmanuel Perry's WAR model, which is available at
Corsica Hockey
.
Regardless of the metric used, most teams are not well-positioned over the long term. Why? Because the only players locked down long term are those for whom teams are prepared to pay a premium. I mean, very few players are going to sign a long-term contract at a discount, right? That's why most long-term contracts are either fair, or overpays.
As such, the only teams in positive territory over the long term are Winnipeg, Anaheim, and Carolina -- although Edmonton didn't miss by much. Chicago is definitely in the worst long-term cap position, followed by Detroit and Florida, then a handful of teams like Vancouver, Dadllas, Buffalo, Calgary, Ottawa, and Minnesota.
When looking only at 2017-18, the league mostly sums up to zero, because this will include value-priced contracts, which are normally short-term arrangements. Whether short-term or long-term, the leaders once again include Carolina, Winnipeg, and Anaheim, followed by Edmonton. Montreal, Tampa Bay, Nashville, and Toronto are also in great shape, in the short-term. The team's in the worst cap situation this season include Detroit, Vancouver, Calgary, and Florida.
In terms of individual players, the best value contract is definitely Connor McDavid, no matter what metric you use. Unsurprisingly, he's followed by some really good, young, value forwards like Vladimir Tarasenko, Patrik Laine, Nikita Kucherov, and Nathan MacKinnon, with T.J. Oshie and goalie Braden Holtby in there as well.
At the other end of the spectrum, Aaron Ekblad is surprisingly the contract with the lowest value. Perhaps that shouldn't be a surprise, because $7.5 million over the long-term is a pretty hefty sum for someone who isn't in the Norris race, and possibly might not be more than once or twice in that eight-year span. To make matters worse, Keith Yandle is also in the bottom 10.
Brent Seabrook is second-last, and has been near the bottom for years, but it's only recently that people have started to see just how risky that contract has always been. Not all the contracts at the bottom of the list prove to be bad, but it's an interesting exercise to see which ones are worth keeping an eye on.
Individual Scoring Stats
As part of my
recent piece for NHL.com
about the members of the Vegas Golden Knights who have over-achieved to the greatest extent, I compared every player's scoring this season to what was expected, based on games played, and on previous career points per game (data from
Hockey Reference
, one of my very, very favourite resources). 
Needless to say, virtually every member of the Vegas Golden Knights is having a career season. But, it's also interesting to see how players around the league are doing, including the leader, Joshua Bailey of the New York Islanders.
+29.9 Bailey
+24.8 Karlsson
+24.5 Kucherov
+23.8 MacKinnon
+22.7 Couturier
+22.5 Rantanen
+21.1 Voracek
+18.5 Marchessault
+18.5 Namestnikov
+18.3 Wheeler
+17.6 Marchand
+17.2 Schenn
+16.1 Lee
+14.6 Haula
On this list, Karlsson, Marchessault, and Haula all play for the Golden Knights. It's quite remarkable that they hit 60 points at the 41-game mark, when the average expectations was 69 points on the whole season. How many points will they have the rest of the way? Well, certainly less than 60.
I briefly looked at all the other teams to earn at least 60 points in the standings prior to the 41-game mark, and none of them secured 60 points the rest of the way. Teams can get hot early in the year, or late in the year, but no team has been that hot all season.
Of the teams that earned 60 points through the first 41 games, I believe their average result in the final 41 games was around 50. I can't find the files where I did the math but, if I do, I'll update this with a more certain answer.
It's also possible the Golden Knights have been feasting on a relatively weaker division, and wouldn't be doing as well in, oh, say, the Central division. Liam O'Neil (@liam_oneil) added up the goal differential in each division, and the results are eye-opening.
As for the other end of the spectrum, it's not nearly as interesting. The list of under-achievers is mostly composed of players at the end of their careers, who couldn't possibly score at the same rate as they did in their prime. So, this list isn't nearly as insightful, but here it is.
-24.7 Spezza
-17.6 Jagr
-16.6 Kunitz
-15.7 Nash
-15.2 Sharp
-14.8 Crosby
-13.6 Jokinen
-13.3 Guentzel
-13.2 Hagelin
-12.3 Burrows
-12.3 Stajan
-12.0 Cammalleri
-11.7 Pominville
-11.6 Callahan
-11.5 Thornton
For another look at scoring, I calculated a weighted average of everyone's scoring rate from 2014-15 to 2017-18. I applied double the weight to games played this season to the previous, and then double again down the line. Here are the top 5-on-5 scoring rates for individual players over the past 3.5 years.
Points per 60/minutes (minimum 1,000 minutes played)
2.69 McDavid
2.58 Kucherov
2.57 Marchand
2.47 Schwartz
2.42 Kane
2.41 Getzlaf
2.40 Matthews
2.30 Tarasenko
2.28 Bjorkstrand
2.25 Tavares
2.25 Scheifele
2.25 Marchessault
2.25 Gaudreau
I don't think there are any shocking results here, except Bjorkstrand -- but that's probably just a small sample size.
Oh, and one last thing about scoring. I was asked whether some player's scoring results were skewed by getting a lot of opportunities to play at 3-on-3. The answer is no. Over the past three seasons, nobody has scored more than 13 points. That's just 4 or 5 points a season, even in the extreme. So no, nothing is really getting skewed.
13 Kopitar Gaudreau
10 Carter
9 Voracek Kane Pearson
8 Giroux Doughty Martinez Panarin
It's possible that some goalie data is getting skewed a tiny bit. So, I took a look at that. By the way, this 3-on-3 data, and the previous 5-on-5 scoring rate data, is all from
Corsica Hockey
website, which is a fantastic resource. But, I think anyone interested enough to follow my blog is probably already well familiar with that!
3-on-3 save percentage (minimum 50 minutes played)
.979 Bobrovsky
.963 Kinkaid
.941 Anderson
.927 Luongo
.916 Mason
.906 Greiss
.903 Murray
.902 Holtby
.900 Halak
...(League avg is .853)...
.791 Darling
.775 Howard
.773 Jones
.667 Gibson
One quick tidbit about goalies: Gord Miller (@GMillerTSN) recently tweeted that of the 80 goalies to play this season, only three catch with their right hand - Domingue, Lindgren, and Mason. Remember the conversation I once had with Darren Pang and Craig Simpson about how certain handedness of shooters have an advantage over certain handedness of goalies, I wonder if this actually boosts certain shooters. Sadly, I can't remember which handedness had an advantage over which!
Hockey Analytics in the European Leagues
If you have your copy of Stat Shot handy, flip to page 39. That's the page where there's a re-creation of Eric Tulsky's famous chart that shows the relationship between changes in goal differential, and changes in points. The relationship between the two is uncanny, and works out to one extra point in the standings for every improvement of 2.87 in goal differential.
Well, @bodega_stats has re-created the same charts in some of the European leagues, and discovered that it's much lower in Europe. Specifically, it's 1.44 goals per point in the Swedish league, and 1.895 in the Swiss league. Of course, bear in mind that the scoring system is quite different there.
Also in Europe, Petr Malina (@xpmalina) build one of my beloved player usage charts for the Czech league. I have no idea where he found the data for it, but it's really interesting.
It's a lot of fun to see a lot of the NHL's innovations applied to other leagues. 
If you love this stuff as I do, then you'll be pleased with my next book, which is set for release September 2018. Unlike Stat Shot, it is not exclusively NHL-focused, and has more content related to the European leagues, U.S. College, and women's hockey.
Nail him, coach!
On the lighter side of things, my year-end poll look at one of my favourite movies, Slap Shot.
It was a tight race between the player-coach and the goon, but it sounds like most fans would prefer adding the skill and experience of Reg Dunlop to their teams than to add the ultimate enforcer. There were some write-in choices for Mo, not to mention scoring-line forwards Ned Braden and Jean-Guy Drouin, but Dunlop won the day.
Closing Announcements
In closing, I have two events to promote.
First, is the
Vancouver Hockey Analytics Conference
March 2-4, for which tickets go on sale January 16. I was at the inaugural conference a few years ago, and they really do a great job. Vancouver is a hotbed of hockey analytics, and there are some brilliant minds there, and also some really awesome people personally. This is a great event to attend, and to support.
Finally, one last reminder of the special charity game in which I'll be participating tomorrow as part of Esso Minor Hockey Week. During the opening ceremonies, it's my honour to represent Rob Kerr's media all-stars as we take on Jamie Macoun's Flames alumni. I'm not crazy about our chances, but it's all for the kids, and it should be a lot of fun. I really hope to see you there.